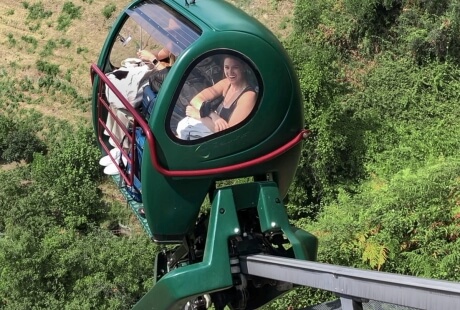 La Sosta di Ottone III is situated at the top end of the village of Chiesanuova which is not accessible by car.
As we are situated in a remote location, we strongly recommend that first time guests arrive before 6.00PM (18.00).
At the bottom of the village, roughly 150 metres from the Hotel, you will find:
La Sosta's private, unguarded and free of charge car park;
La Sosta's monorail: it can take 2 guests with luggage up to the Hotel. Instructions on how to call for the monorail and how to action the monorail are available on a post with video intercom beside the monorail. It takes roughly 4 minutes for the monorail to arrive and 4 minutes to go back up. The monorail is not available at nighttime.
Alternatively, guests can walk up the 150 meters through the Village.
How to reach us by car
From Milano: 2h 30min
From Roma: 4h 30 min
From Genova: 1h 20 min
From Pisa: 1h 20 min
Nearest Motorway:
A12 Genova – Livorno
Exit: Carrodano – Levanto
Google Maps Plus Code leading to LA SOSTA DI OTTONE III – PARKING:
5JCW+RJ – Levanto Province of La Spezia
Arrival instructions from Motorway A12
After "Exit: Carrodano – Levanto":
follow signs to Levanto, drive for 12 km
follow signs for Monterosso, drive 5 km
on the right hand side see sign for CHIESANUOVA. Turn right here. This dead-end road will take you to the bottom of the village where you will find La Sosta's monorail and La Sosta's private, unguarded car park.
La Sosta's monorail is on the left-hand side, on a sharp curve which bends right. The monorail will take you up to la Sosta. Please follow instructions on site carefully. It does not run at night.
La Sosta guest's car park is on your right-hand side, shortly after the monorail.
For Night Arrivals, please walk 150 meters up to La Sosta, through the village.
In case of arrivals after 6.00PM (18.00 hrs): if you think you may have to arrive after 6.00PM when the reception closes, please contact reception@lasosta.com / +39 0187 814502 for late arrival instructions.
How to reach us by train
Levanto or Monterosso Stations are both about 6 km from La Sosta di Ottone lll.
From here you will need to take a Taxi.
There are 2 Taxi Services in Levanto and 10 Taxi Services in Monterosso.
The ride is about 10 minutes and costs 20/25 euro.
The numbers to call are (remember +39 for Italy):
LEVANTO
Mirko:  +39 338 23 66 355 
Danilo: +39 335 825 9532

Edoardo:  +39 3484417963
MONTEROSSO
AmicoTaxi: +39 3356280933 

Speedy: +39 3356165842

To consult the train schedule: Italian railway or Trainline
A few tips:
Remember that a car is not useful in the Cinque Terre, as the roads are narrow and cars are not permitted at all in the tiny towns.
The best way to visit them is by foot, boat or train.
For a visitor there are essentially 2 options:
stay in the Cinque Terre or close (5 km) to the Cinque Terre.
It's very much a decision of whether you prefer to stay in the crowd (people, restaurants, cafes, shops ecc) or in a quieter environment.
La Sosta guests prefer the second option and many are without a car.